LaGrange Game Truck
We have the NEWEST and BEST Game Truck in West Georgia - call Five Js Gaming for a BETTER event
At Five Js Gaming we have a gamers paradise on wheels and we bring the party to you. We're the only game truck in the area with Virtual Reality units inside and outside of our gaming theater. Our unit is fully climate controlled, so it's really comfortable during the hottest summers and the coldest winters. Our Game Truck is equipped with everything you need for an unforgettable gaming experience and the video games are included when you book us for your party or event. We have 5 HDTV's - 3 Xbox One S systems and 5 PlayStation 4 systems that you can use to play with your friends or against them.
At Five Js Gaming our main focus is to provide gamers with the ultimate fun experience at any event or party. We have the most luxurious and best-equipped game truck in the area. We bring the party to your door and leave no mess behind.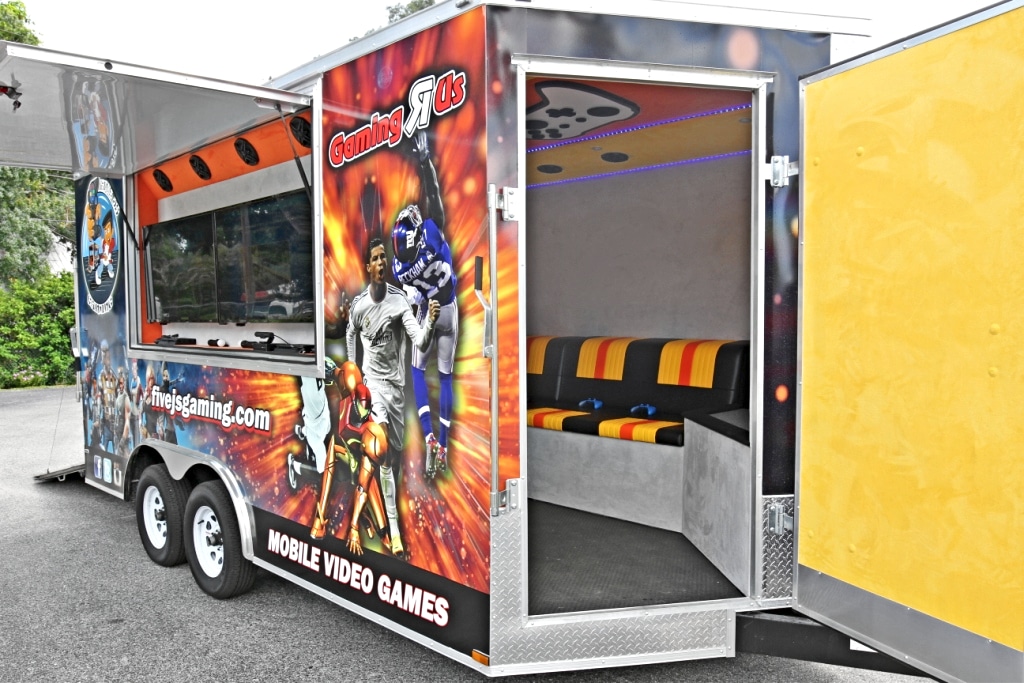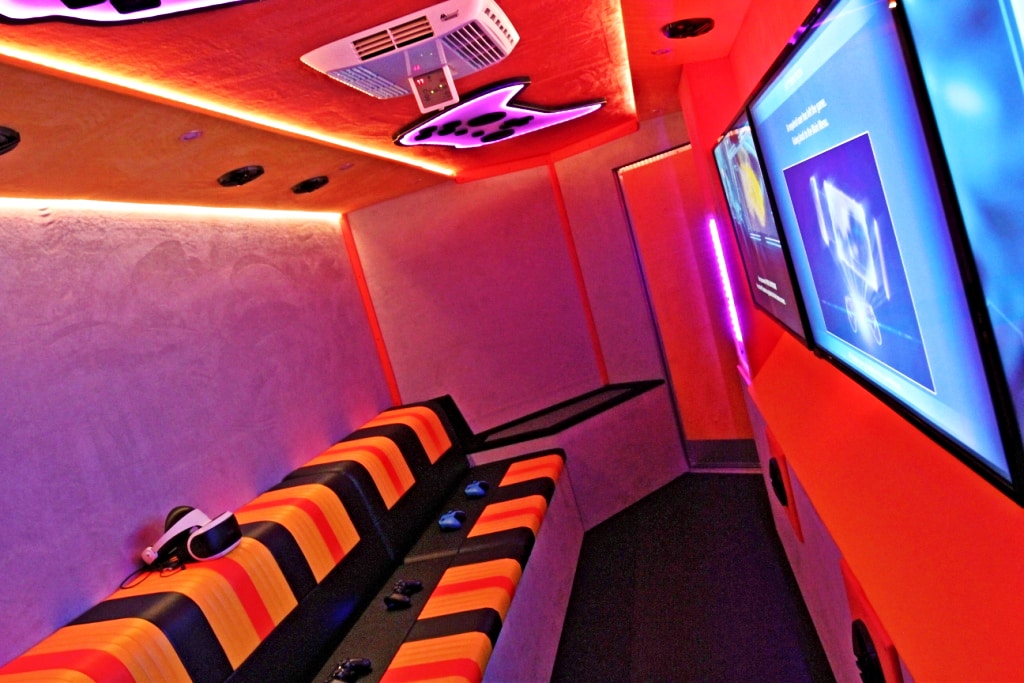 We Deliver Comfort and Luxury
Let Five Js Gaming Bring An Unforgetable Gaming Experience To Your Door
Our game truck is equipped with five 50" LED HDTV's. The TV's are the perfect fit for our pulse-pounding 5000-watt custom audio system with 14 amplified speakers that immerse you in the action of the video game as you're playing. Best of all, our diversified audio system will also allow you to enjoy music in the background while you're playing a game.
Our air conditioner is controlled by a digital thermostat that can be set as cool or warm as you want. The seats are leather with well-cushioned inserts, the walls are plush suede and the floor is a durable non-slip rubber. Our game truck is more comfortable than any house, louder than any movie theater and it's fully interactive, allowing you to play all of the newest games in high definition.
It's Time for a Five Js Gaming Party!
We have the best customer service of any game truck in East Alabama and West Georgia
At Five Js Gaming we pride ourselves on customer service. As game truck owners, we operate a respectful, wholesome family business. We are parents of three kids, so we make sure that each of our staff treats your kids the way we would want them to treat our kids. What sets us apart from the competition in the area is our professionalism and the fact that we're true gamers ourselves! When our Xbox and PlayStation pros get to your event, they keep everyone engaged and excited from the time we get the moment we leave. We're fun, knowledgeable and we can make your event a success.
We're licensed, insured and require a two hour minimum for rentals. At Five Js Gaming, we always show up on time and we leave no mess for you to clean. Whether you have a private house party, an all-day event or a week-long festival we are here to make it memorable!
---
Book Us Now
---
Our reservations are first come first serve, so please book your party well in advance. If you have more questions or if you're ready to make a reservation, call us at (706) 412-2926.
---